We have left
Messolonghi
and spent one night for anchor for the first time this season
It's a very special feeling to be completely alone on the water, the only sounds coming from a flock of goats on the nearby island of Petalas. This island is actually one of the Ionian's but since 2011 there is no one living here!
A bit further out there were 20-25 knots in the gusts but in the bay-so peaceful and quiet…
We have really missed this!
The next day we continued towards Nidri. Bad weather was coming our way and we wanted to be in a safe place when that happened.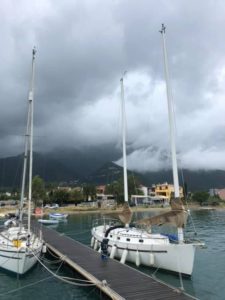 It's a few days left until Hoppetossa is going out of the water and we have managed to get a place on one of the pontoons in Nidri where we will stay until then.
And we were just in time! The first night we had a lot of thunder and 50-60 knots in the gusts.
Being in the neighborhood we also took the opportunity to visit Paxos, Antipaxos slightly bigger sister.
Paxos is 13 km long from north to south and with three towns, or rather villages-Gaios, Loggos and Lakka.
We went to Lakka, a small fishing village famous for it's unbelievably clear and intensely turquoise water.
In summer the big bay is usually hosting 90-100 boats but now at the end of June we were just 10 boats happily floating around.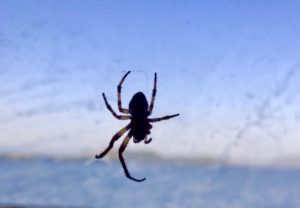 Even our six legged hitch hiker/crew member Sixten
,
who has been with us since we left Messolonghi, working as our mosquito catcher, seemed to be so happy about this place that he suddenly left us!
Straight over from Lakka on the mainland lies the lovely port village Syvota with a small archipelago of three or four  islands depending on who you ask.  Agios Nikolaos, Mavro Oros and Agios Paraskevi are the three biggest ones.
All of them with their own beautiful sandy beaches.
During the Middle Ages, Syvota was part of the Byzantine Empire and the Despotate of Epirus and during that time the town was called Mourtos. After nearly 500 years of Ottoman rule, Syvota finally joined Greece in 1913.
We have been for anchor here for two nights enjoying this peaceful place.
But we  needed to fill up with water so we headed to Mandraki Marina on Corfu.
This Marina is very nicely situated inside the Old fortress in Corfu Town, Kérkyra in Greek.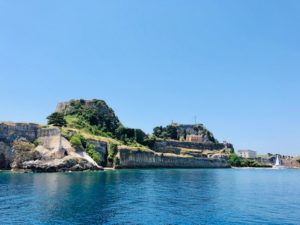 The charming Old town that has grown up inside the Byzantine and Venetian fortifications is a labyrinth of narrow streets paved with cobblestones and full of colorful, beautiful houses. We like it very much!
We stayed in the Marina for two nights and then we went for anchor in the big bay outside of the town for a while.
One evening we had a thunderstorm, and as usual when this happens hard winds were coming from a completely different direction than they should, followed by big waves, and so we lost our anchor holding!
We took shelter behind the small island of Vidos opposite of the town and just had time for a nice dinner before the wind changed again and became quite viscous!
This was not according to the predictions so we decided to go to Gouvia Marina, and just before darkness we got permission to stay at their fuel pontoon for the night.
So, this is also a part of our life, it's not always sunshine and fair winds!
Still, most of the time it is wonderful and we wouldn't exchange it for all the butter in Småland (old Swedish word of wisdom)😀
On the other side of the bay there's a long beautiful sand beach.
It's about 15-20 min walk and if you're lucky you can get the company of the three lovely dogs from the small fishing harbor who are very happy to go for a swim with you!
Soon we will go south towards Preveza, Kefalonia and Ithaca, but not yet…
But finally we left Igoumenitsa and sailed towards Preveza to stock up. Our fridge was now in dire need of a refill after our long hideout in this lovely secret bay.
So we waved good bye to Max and Nina! We hope we will meet these lovely people again somewhere on the seas💕
When we arrived to the anchorage in Preveza it was so full that we decided to continue to Vonitsa in Amvrakikos Bay instead. This is a town we visited several times last year, and we like it a lot.
Looking back on this year so far, the theme seems to be about revisiting places, even though we have seen a few new ones like Meganissi, Antipaxos, Paxos and Sybota.
Corona is of course also playing a part this year. We don't want to move very far away from a Marina we can return to in case the restrictions are suddenly changing.
But for now, see you in Koronisia….⛵