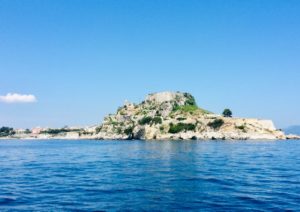 A visit from Linn and Alicia 15 – 27 July
We have picked up Linn and Alicia on Corfu and are now for anchor outside the beautiful capital.
After some very strange encounters with Port Police and customs
we have finally managed to pay the Depka and the TEPAI (the new Greek tax for yachts) for the coming months! Not an easy task I can tell you! Not even the Port Police seems to know how to handle the tax. The Depka you can pay in their office but for the TEPAI they sent us to a post office quite far away. The only problem was that,being Saturday, it was closed! so back to the Port Police, who then told us to come back the next day with proof of payment! Well, at least it was a good way to get a bit aquainted with the town😂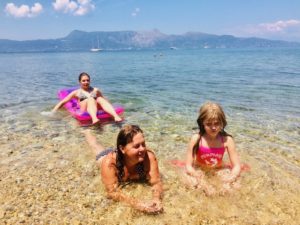 Corfu is surrounded by several small islands and one day we found a hidden beach on one of them, a bit outside of the main port-the small island of Lazaretto, so called due to the use of it as a quarantine station during the Venetian era (early 16th century) when the Plague was raging on Corfu.
We wanted Alicia and Linn to see Albania so then we had to go to the Port Police again to report that we were going to leave Greece for a while. And oj, oj what a problem that became!
The police obviously thought that we were going to kidnap Alicia by bringing her to Albania, a country that, for historical reasons, is generally not looked upon with kind eyes by the Greek. They demanded that Alicias father would grant us permission to go, which he did by mailing us a letter with his consent. When we showed them this they said that "anyone could have written that letter"! and Rein got so angry that smoke was almost coming out of his ears! 🤣 That, together with Linn's calming prescence, actually seemed to help and we were allowed to go!
And so, we went for anchor outside Sarandë, Albania again! This time it was later in the season with a lot of more people and the pulsating music from all the bars around the bay were quite deafening in the evenings (and nights). This is Albanias tourist and party district and although we like the place, we realise that it is much better to be here in the spring or autumn.
But Alicia had lots of fun on the beach and one day we rented a car and drove to The Blue Eye
(Syri I Kalter) the wonderful fresh water spring in the mountains.
The water is only 10-12 C so we just dipped our feet in, and after a minute we couldn't feel them anymore 🙂
We stopped along the road to buy some local honey and to fill three big bottles with the clear spring water coming straight down from the mountains!
We really love Albania but after about a week we decided to leave the crowded and noisy bays for a sheltered and hidden lagoon on the Greek mainland, Igoumenitsa.
The water here is a bit green because of the mud on the bottom, so it's definitely not crystal clear.
But we are only 4-5 boats here and it's sooo peaceful and beautiful!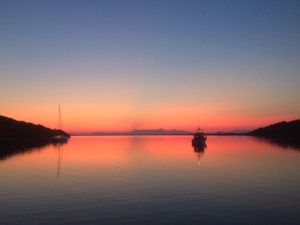 The water is filled with constantly jumping mullets
and the surrounding flatlands are home to a myriad of white and black herons and, maybe more surprisingly, cows!
There are some theories as to why the fish are jumping so much.
In this shallow lagoon they are not fleeing from predators (at least we hope that they are not) so there must be another reason.
One theory is that the shallow, muddy water has such a low level of oxygen that the fish need to fill a special organ, especially used for that purpose, with more oxygen from the air in order to keep up their energy level.
But too soon it was time to go back to Corfu and wave goodbye to our sweet girls, and it became very, very empty on the boat
We decided to go to Petriti, a small fishing village on the southeast coast of Corfu.
It has a beautiful beach that Alicia and Linn would have loved. Next time…..
It was quite crowded and a small American boat with a single guy onboard anchored a bit too close for comfort. We thought that he probably knew what he was doing so we let it be.
But the wind died down during the night and in the morning we woke up and saw through our window that he was almost on top of us, hitting our dinghy! When we rushed outside we found him sitting in his boat looking on while hitting us! And asking us if we were planning to leave today??🙄
We told him we had not planned to leave, but we decided to move a bit away from this lunatic. Then he came after us and anchored close by again! so we gave up on him and decided to go back to Igoumenitsa where we could get a good nights sleep. We have no idea why he behaved like this, some people are just strange!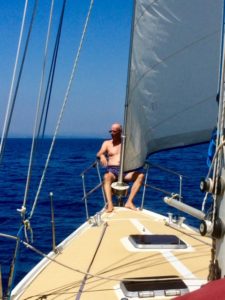 But Igoumenitsa is amazing!
It's so sheltered there that despite 15 knots of wind outside we are hardly moving at all.
And the best thing is that we are almost alone here with only the farting fish
and a myriad of herons to keep us company!
Every evening at sunset the herons are flying by to nest for the night.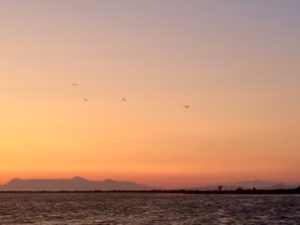 The black herons are originally from Africa but have been observed now and then here in Greece and in Italy. Here they are mingling with the great white herons, the beautiful egrets!
These big birds have a dinosaur feeling to them, with their long necks and yellow eyes.
But they are so lovely!
I have tried to capture them with my camera when they are passing by, but it's difficult to catch them.
One day we went for a walk together with a very nice and friendly dog
that met us when we came ashore!
We think she's supposed to be a guard dog but she very happily showed us the way to the other side of the peninsula, where there's a wonderful sandy beach! We wish we had known about that when Linn and Alicia were here.
After a few days here we decided to sail towards Preveza and beyond…to Amvrakikos Bay.
Amvrakikos Bay 6 Aug-15 Sep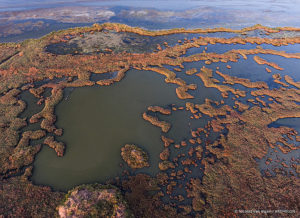 The Amvrakikos is located in the Ionian Sea in northwestern Greece and it is a relatively shallow and semi-enclosed marine area.
The Bay is big (40 km long, 15 km wide) surrounded by marshes and with two rivers draining into it.
That makes it a bit warmer and less salty than the Ionian, and since industrial fishing is not allowed, it's full of sardines, mullet, sole, and eel!
We went for anchor outside of Vonitsa, one of the small towns situated in the Bay.
It's a wonderful, sleepy beach town away from the crowds in Preveza and Lefkada and we love it here!
And we have spotted some of the
Loggerhead sea turtles!
Yeeh!
They are the world's largest hard shelled turtle. The average length is 70-95 cm but the maximum reported length is 213 cm and the maximum weight 545 kg! Would you take a swim with them? I don't think they will bite but I'm not sure I would like to take the risk!
ARCHELON is a special project going on in Amvrakikos that aims to collect data on the population of sea turtles living in the area. It includes tracking, identifying and adding tagging and satellite tracking on the turtles.  In 2017, tags were fitted on more than 200 sea turtles in Amvrakikos.
I had to borrow this picture because they don't want to pose for me🙂
Just want to show how lovely they are!
Photo: Matteo photos/Shutterstock
It is now the end of August and we are slowly drifting around in Amvrakikos Bay. So far we are amazed to find this beautiful bay so empty during high season!
We had expected a LOT of charter boats but we are practically alone and here in Anaktorio we are only three ships for anchor! We think it might have something to do with the water, that are not so clear due to the rivers ending here. But it's just a theory and meanwhile we are enjoying the peace.
We have seen the rare bottlenosed dolphin twice
and Rein spotted the Dalmatian Pelican floating on the wind high above, looking like something from Jurassic Park
This is a very silent and peaceful place consisting of a beach, a camping site, a taverna and a boatyard!
The recurring afternoon winds that we have encountered in Vonitsa, and that could be quite hard, are not here at all. It's so calm…
One evening we were having a cold beer with fresh shrimps and grilled octopus in the small taverna on the beach and with our Hoppetossa in the background!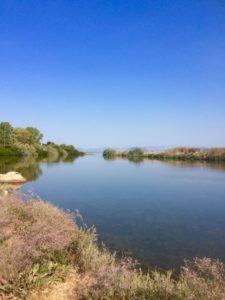 After Anaktoria we went for anchor outside another small town in the Bay-Koronisia.
Taking a walk to the cute little town on the other side of the peninsula we met our Dutch friends Alida and Auwert who are laying with their boat Frya in the small harbor, and we decided to do the same.
There's a pontoon with water and electricity were you can moor alongside free of charge, but the depth in the harbor is a maximum of 2 meters, and our depth is 1,80,so we had to be very careful going in.
There are a few tavernas and restaurants but no shops or ATMs so be sure to have cash with you when you come here since you can't pay with cards.
The bakery car is coming every morning at 9,30 and the Vegetable car twice a week, sometimes even with eggs and live chickens
!
And in the harbor lives Nessie, the turtle!
 💚
Our friends who have been here for a while introduced us to Michailis, the owner of the restaurant Mare Mare, and there we had some good seafood meals rinsed down with Tsipouro, a strong (40-45%) and tasty distilled spirit made from the grape stalks, skins and pits that remain after pressing. I like it very much!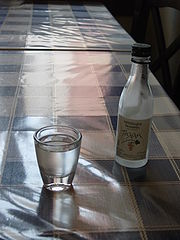 Micahilis is also kind enough to take us shopping for groceries now and then and one day we went with our friends Auwert and Alida to Arta, the capital of the region. It is a very old settlement known as Ambracia, dated back to the 7th century BC. Today  it's quite a big city with about 30 thousand inhabitants.
We are really enjoying the astonishingly beautiful surroundings and the wildlife here!
Turtles, pelicans, herons and myriads of other small birds, fish and sea creatures.
Koronisia is really an island joined with only one narrow, winding road leading to the mainland!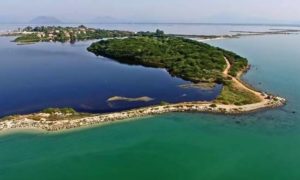 We have now been in Koronisia for two weeks waiting for some thunderstorms to pass by…
This is a magical place and it's very easy to just remain here!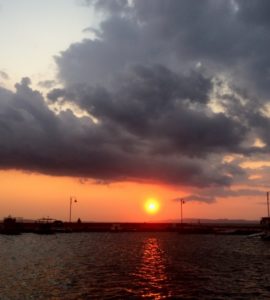 But eventually we had to go…
We had a date with our friends Cris and Clint in Vonitsa.
But this place has really stolen our hearts
and maybe we'll be back!
Thank you so much Alida, Auert, Michaili, Dora and all of you for your kindness and hospitality. We will miss you!
We spent two nights in a completely empty nature reserve close to Preveza and when we were on our way to Vonitsa it happened!!
The beautiful bottlenosed dolphins in the Bay decided to pay us a visit!
It was a big group of about ten individuals and as you can see they were really curious about us! 🙂
The Bay of Amvrakikos is about 400 square km big and there are approximately 120-150 bottlenosed dolphins living here. They are now so genetically different from their cousins outside of the bay so you can say that they are a subspecies.
The ecosystem is very vulnerable here-the dolphins are dependent on the amount of sardines and the sardines are dependent on the oxygen level in the water.
For several years the local fishermen have been noticing a decline in the number of fish in the Bay, like everywhere else in the world, and if the sardines disappear so will the dolphins…
But there's a growing awareness about this, part of the Bay is now a nature reserve and there's no industrial fishing at all in here!
If you want to see more of them we have a nice video on our Facebook page Hoppetossa Sailing!
After enjoying a very nice reunion and dinner with our friends Cris, Clint and their nieces in Vonitsa we continued on our way south.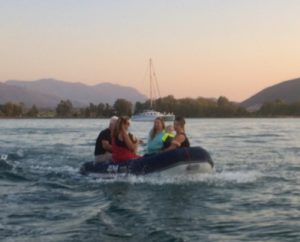 Thunderstorms were coming our way so we decided to stop in a safe place-Nidri Bay on Lefkada Island.
We have become a bit spoiled during our stay in Amvrakikos where we were almost alone in the anchorages! This anchorage is quite full.
Nidri is just a small village with about 800 people, you can easily walk from one end to the other in about 20 min, but it is one of the most popular tourist resorts on Lefkada Island. The main street is filled with dozens of taverns, bars, souvenir shops, supermarkets and other tourism based places.
Sailing into the very secluded Bay we were met by a bunch of Fried-egg-jellyfish! There were hundreds of them swarming all over the place, getting stuck in the engine whenever we went out with the dinghy! 🥴
They are big, up to 35 cm in diameter, and quite interesting looking!
Though they can sting it's not affecting humans much. But still, it doesn't feel very inviting to jump in for a swim with them, does it?
And Hoppetossa has met her sister!
Sailing around in Europe for three years, we have not seen any Vagabond at all, but suddenly she was there in the bay with us! Another beautiful Vagabond 47!
Can you see the difference?
We took our dinghy for a visit…
It's always so nice to see other ships inside and maybe you can steal some ideas!
And Steve and Annie on Paguro were kind enough to immediately invite us onboard!
Paguro is one year older than Hoppetossa and there are some differences, but not much.
The chart table and a door in different places and some other small details with cupboards, stairs and tables.
But the strange thing is that Steve had put an offer on Hoppetossa (then named Sundancer) about a year before we found her in Ipswich! Sometimes it's a very small world!
The asking price was much higher then and the owner, Mr Philpot, was not cooperating at all so Steve felt he couldn't continue with his offer!
We never met Mr Philpot. He was supposed to come and show us the ship but by then she had been on the hard for over two years and it seems he just wanted to get rid of her. He never showed up and Rein had to figure everything out by himself!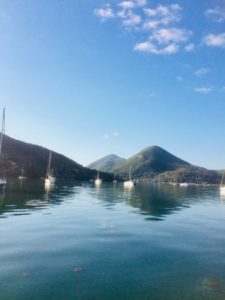 Our front sail has somehow got a tear in it! Don't know where or when…
It's not so big but the sail is old and in need of repair.
So while we were here we made an appointment with a sailmaker who gave us a good offer for a new sail that will be made while we are wintering in Messolonghi.
It has been very pleasant in Nidri!
We have met some really nice and lovely people and we even like the jellyfish!:-)
But it's now the end of september and we have been on the move for 5 months. It will be good for both us and Hoppetossa to settle down for a while, so now we are sailing towards Messolonghi….