The people held out for a long while,with the help of food smuggled in to them from the seaside, but in March 1826 the islands in the bay had to surrender to the Egyptian fleet and supplies from the sea could no longer reach the city.
A bustrip to Kastoria and other places late Oct 2019
It is breathtakingly beautiful and since you also avoid the toll, that can be quite expensive if you go far on the highway, it's not a difficult choice. On our way from Athens to Messalonghi we paid about 27 Euro in toll!
But we had a full schedule so soon we were off again.
At the end of February it was time to pickup our life raft that had been on service in Lefkas to be checked and stocked with new water, flairs, seasick pills and other essentials. Good to do this even if you wish that you never have to use it!
In the neighborhood lies the beautiful waterfalls of Nidri and we thought this time of the year would be a perfect time for a visit!
It is the remains of an ancient city built in the 2nd century BC but the inhabitants didn't stay here long.
For som unknown reason the city was abandoned in the 1st century BC.
Wandering here 2 000 years later you can still see some of the defense wall, that was about 2 km long, with it's 7 gates and 36 towers. An old market place, a theatre, a large water reservoir, baths and some houses are also visible…
But mostly this is a lovely and peaceful place and now there are thousands of Daisys and other sweetsmelling herbs and flowers everywhere!
Before we had to return the rental car we decided to go to Meteora, a place famous for it's monasteries balancing on  the top of gigantic cliffs. We were very curious about it! Taking the Highway it is a three hour drive from Messolonghi.
Coming closer to Meteora you can already see the fantastic cliffs from far away…
Corona comes to Greece
On December 31 2019, the World Health Organization's (WHO) China office heard the first reports of a previously-unknown virus that was causing a number of pneumonia cases in Wuhan, a city in Eastern China. By the end of January 2020 a lot of the European countries had started to take measurements against the fast spreading disease. Greece reacted quickly- Face masks became obligatory on public transports, in taxis, elevators, hospitals and in shops. People should avoid crowds, so all "unnecessary" shops and places to meet such as restaurants, bars, gyms et. c. closed. All the schools also closed and it was suddenly very quiet in Messolonghi.
And while the Carnival in Italy went on, the Greek Carnival, that should have started the 9/2, was stopped.
In the Marina Mimi had to close his restaurant, where we were often meeting our Greek friends for a Frappé. But the coffee could actually be delivered by a courier on a moped anywhere in the town so at least we could continue with that habit!😊
Most of the liveaboards in the Marina had left for their home countries by now so we were only about 9-10 people remaining on our boats. The gates to the Marina were now closed also during daytime and we needed to fill in a form whenever we ventured outside- with name, date and an explanation on what we were going to do. Nobody ever looked at it but we saw that the police sometimes checked cars that came from other provinces.
After a while the two women in the Marina Office disappeared and only one Marinero at a time was staying inside the gates with us.
And on March 11 the WHO officially declared the Covid-19 outbreak a pandemic.
Our friends Björn and Ann-Charlotte had recently sold their ship in Preveza and bought a motor home instead. They had now been traveling around the Peloponnesos for a while and came by Messolonghi for a visit. We had time for some nice lunches and dinners together, but at the end of March the government forbid "unnecessary" travelling between the Greek provinces, so they had to hurry back to Preveza while they could.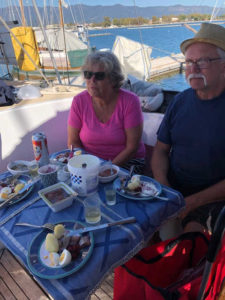 Due to Corona restrictions our group of athletes were no longer allowed to practice inside. But since it was permitted for up to 5 people to be together outside that was what we were doing instead. So Leonidas, Nikos, Mirofora, Lilian, Rein and me were regularly going out together. I know, I know! We were 6 people but Lilian and I are so small so I think we can easily pass for Halflings!😉
April 2020
We had hoped that we would be able to leave in April but due to the Lockdown that will not happen.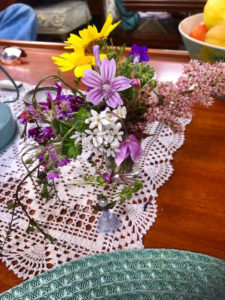 Easter
Meanwhile we are going out for walks with our friends and Anouk and celebrating Easter twice this year🐥🐣