Koronisia again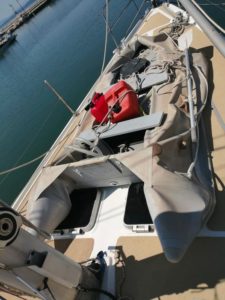 Just 10 min after mooring in Koronisia and saying hello to our friends we heard a strange Pfffff! and noticed that our dinghy was looking a bit strange!
It seemed to be collapsing completely and was letting out a lot air! The glue that had kept it together for over twenty years! had dissolved everywhere and now it obviously had enough!
Lilla Gubben, as we call him, is like our car when we are for anchor and we can't manage without him!
Well, if it had to happen it was certainly good timing! We are now in a place where we won't need him at the moment and we can look for a replacement.
We are also very happy that he didn't sink when out on the water with us and the engine!
Anyway it seems to be decided for us! We have to stay here, at least until we can find a new dinghy!
After a bit of research on the Internet, we managed to find a dinghy. It is about the same size and shape as Lilla Gubben and in a good prize range. We had to go to a Marine shop in Preveza to order it and Mikhaili, the owner of the restaurant Mare Mare, was very kind and drove us there.
A few days later it was delivered and we should be able continue on our way!
But thunderstorms were predicted for the coming days, so we had stay here just a little bit longer….
And since Koronisia is one of our favorite places we didn't feel so sad about that!
Out for a walk with one of the lovely dogs!🐕
Of course we had to go out exploring a bit with "Lilla Gubben II"!
Just around the corner, about 10 min from Koronisia, we found a beautiful beach where we were completely alone!
It's now the 15 aug and we are planning to leave in a few days!
We know that it's still high season out there, outside of Amvrakikos Bay, so we will not go so far at the moment.
The Charter Fleets are not fun to deal with!
Meanwhile we enjoy this peaceful and lovely place together with our friends David and Sarah who arrived here a few days ago
We finally managed to get away from  Koronisa, whileDavid and Sarah decided to stay a little bit longer!
Ha ha, we know how it is with that place! It's almost impossible to leave so we'll see how long they will remain there.
Our friends Auwert and Alida on Freya tried to leave once but then their mast broke and now they have been there for two years!!
Vonitsa again
We didn't go far from Koronisia, just across the bay to Vonitsa! We have been here several times but never visited the medieval castle that is standing guard over the town.
It is an impressive place, more of a small town in itself than a castle. It was built around the year 1070 by the Venetians and since then it has gone through a lot of hands-the Byzantines, the Lombards, the Turks, the French and finally the Greek themselves in 1829.
The lovely view over the bay makes it well worth the effort to hike up the hill in the summer heat! And afterwards a glass of freshly pressed orange juice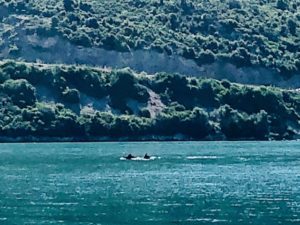 On the day we were leaving Vonitsa the dolphins chose to make an appearance, saying Goodbye!🐬💙
Ithaka 
After Vonitsa we went to Vliho Bay on Lefkada for a few days, or so we thought.
Another place that is difficult to get away from.
Last year we met Hoppetossa's sistership Paguro in Vliho and now we could spend some time with her owners Steve and Annie again. Sweet people!
The anchorage is big with very good holding and the water is mostly calm and tranquil with hardly a ripple during the night! It is so comfortable!
In fact it is so easy to just stay on in Vliho that the local live aboards call it Velcro Bay!😄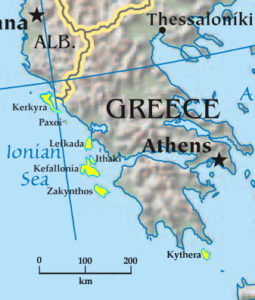 But after about a week we managed to extract ourselves and continued to Ithaka (or Ithaca, Ithaki), one of the smallest of the seven Ionian Islands and, according to some historians, the home of Odysseus.
The placenames here in Greece are a special matter and it can sometimes be difficult to know which name is the correct one. Greece has been inhabited for so long and by so many different people so it's not so strange that the names have changed and shifted several times during the milleniums.
These are some of the names that Ithaka has had😏
Val di Compare (Valley of the Bestman)
Piccola Cephallonia
Anticephallonia (Middle Ages until the beginning of the Venetian period)
Ithaki Nisos,Thrakoniso,Thiakou (Byzantine period)
Teaki (Venetian period)
Fiaki (Ottoman period)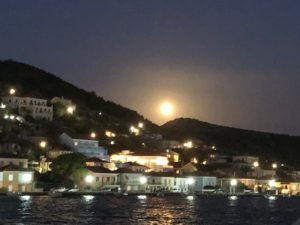 Moonrise over Vathy, Ithaka
We went for anchor in the bay outside of Vathy (or Vathi) the capital of Ithaka. It is a lovely town with about 2 000 residents, built in the 1500 AD and with a distinct Venetian feeling to it. The bay was quite full when we arrived but we managed to find a good spot. Later in the evening and night it became really choppy so the next morning we decided to go to a quay at the opposite side of the town. It turned out to be a good choice, much more quiet than the town quay, with a lot of surrounding nature and a very nice taverna!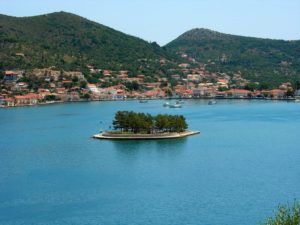 In the bay lies a very small islet, Lazareto, that we of course had to visit with our dinghy.
It is covered with pine trees, and in its middle lies a small chapel built around 1660.
As you can hear on the name, Lazareto has served as a quarantine station for arriving ships during the Venetian era in the 1500s.
In 1817 when the British ruled over the Ionian islands, they built a huge prison on Lazareto, covering almost the whole island.
This prison was severely damaged by the earthquakes 1953 and after that it was completely demolished. There are not many traces left of it now.
But the cute little chapel survived the quakes and has lately become a popular destination for couples, from all over Greece, to come here for their wedding ceremonies💞
A visitor onboard
One night I abruptly woke up by something running over my hand and quickly disappearing under the mattress!!
At first I thought it could be an insect, maybe a big spider, but there had been a distinct feeling of claws on my hand!
Anyway there was no chance of going back to sleep! What if it came back, running over me again!!😳
A bed on a boat has a lot of storage underneath so that's where this creature, whatever it was, was moving around and without demolishing the whole bed we wouldn't be able to catch it.
So we decided to get up and wait with exploring until the morning, settling down on the couch in the main cabin instead.
I was wide awake and didn't think that I could fall asleep again but we both did!
A while later some strange noises from the kitchen woke us up- and there he was sitting-happily munching on a piece of chips😀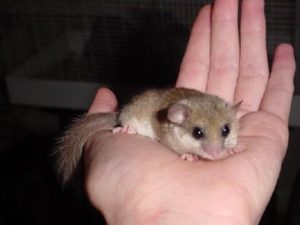 It turned out to be this little furry creature, a dormouse (hasselmus in Swedish). It's quite adorable isn't it?
It has a long furry tail and because it is a nocturnal animal it has very big and beautiful eyes.
When we put the light on it jumped very high and went for the door with lightning speed, disappearing overboard! Probably going to the neighbor!
We were so relieved that it wasn't a rat!
Anyway, we thought we had seen the last of this little guy that night when he woke us up, but Dorian the dormouse must actually have been sneaking back onboard many times without us noticing anything!
About a week later, when we had already left Ithaka, we found that somebody had been chewing on a piece of cucumber, taken a croissant out of a bag and eaten half of it behind the stove, stored a pile of grapes for future use in the front cabin and even been nibbling on a garlic
For a while we were worried that he was still with us on the boat, but that was not the case.
The harbor where we were staying is surrounded by bushes and trees with a lot of inhabitants, so we think that this smart little creature had simply made a habit out of gathering some extra food from the boats. Treats you can't find in the forest, such as chips!😋
Strange fact– In ancient Rome the dormouse was considered a delicacy, either as an appetizer or as a dessert, dipped in honey and poppy seeds! 🥺They used a special kind of cage to raise and fatten them in-a gliarium-named after the mouse's latin name Glis glis. In more recent years the dormice have begun to be kept as pets, especially in Asian countries, which of course is way better than being snacked upon! They can live for about five years which is quite a long time for a rodent.
Our friends Andrew and Angela on Millie came sailing by, staying on the town quay for a while. We had a nice dinner together in the taverna on our side of the bay, and later in the evening when the customers were fewer, Dorians relatives came out of the forest to nibble on the leftovers from the floor😃
As ususal it was lovely to see the Millies and now we know that we would meet them again, quite soon, on Kefalonia.
One day we rented a car and went around the island.
It's not so big, 117 square km with about 3 000 inhabitants, so even with stops here and there to walk about and eat a bit, it doesn't take so many hours to circumnavigate
In Homeros famous Epos about Odysseus, Ithaka is mentioned as his kingdom.
Homeros describes Ithaka as "low-lying, farthest out to the sea towards the setting sun in the west"
But as you can see on the pictures, nobody can say that Ithaka is especially low-lying and Kefalonia is the island that is actually facing the setting sun. So it's not really fitting!
Maybe the two islands, Ithaka and Kefalonia, that are now separated by the Strait of Ithaka, was one island at the time of Odysseus travels ! Or maybe his kingdom lay somewhere else completely! One theory say's that it might be on Lefkada, but who knows!
I know that if I was Odysseus I would be very happy to have my kingdom here. What a lovely place
Interesting fact
-During the British protectorate period, some citizens of Ithaka were members in a secret organization, Philiki Etairia (Society of Friends), that was working against the Ottomans during the Greek war of Independence.
And a lot of the Ithacans were also participating in naval battles against the Turkish army during the third siege of Messolongi-another favorite place of ours that I have been writing a lot about in an earlier blogpost.
Ithaka was annexed to the Greek Kingdom with the rest of the Ionian islands in 1864.
And Greece received its full independence from the Ottoman Empire in 1832, after nearly four hundred years!
Kefalonia
After 9 days in Vathy we decided to sail to Kefalonia (or Cephalonia, Kefallinia, Kephallenia) the largest of the Ionian islands. Cephalus (meaning head) was a hero in the Greek mythology, who for his courageous fighting was rewarded with the island of Same, which then became known as Cephallenia.
We went towards Argostoli, the capital of the island, situated in a deep and very sheltered bay at the western side.
It used to be full of beautiful Venetian buildings but the town was completely destroyed along with most of the other villages on the island in the major earthquake of 1953.  Argostoli has been rebuilt since then, but unfortunately no efforts were really made to maintain and keep the traditional architecture.
Now it is a modern town with an airport close by, which makes it quite busy during high season.
It has a population of about 10 000 people.
At first we sailed past Argostoli and anchored at the northwest end of the gulf in the Livada Lagoon. This is a kind of coastal swamp or wetland fed by more than a hundred creeks and streams and protected from the northern winds by the mountains.
This creates a unique ecosystem that is the home for more than 50 species of birds. There are also several species of sea turtles and snakes and one day we saw a dark head popping up a few meters away from us, and it turned out to be a very rare
Mediterranean monk seal
checking us out.😃 The secluded beaches and the vast underground caves here are perfect birthing places for the seals!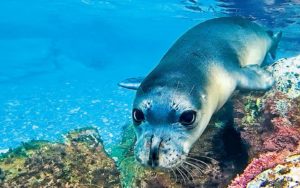 It is estimated that no more than 700 individuals are now living in three or four isolated groups in the Mediterranean!
Interesting fact 
In 1937 a skeleton dated to 1500-2000 BC was found in Livada. It was the remains of a gigantic man 2,5 m tall! 😲He was clutching a clay jar of Tsipouro, a local, strong distilled spirit, in which he was also enbalmed. The site has now a local reputation as being home to "vampires, pagans!! and other evil spirits"
No wonder when you look at the face on the clay jars below!
Vampires or not, the anchorage was lovely! The village of Livada lies nearby with about 50-80 inhabitants and we could see a small taverna on the shore with some deckchairs far out in the shallow water. But nobody was occupying them and we were almost alone in this beautiful place.
Together with them we rented a car and went around the island. Up and down the mountains on meandering and winding roads we went! We stopped for coffee in Assos, a small and charming fishing village with less than a hundred inhabitants. Situated on a narrow peninsula with the mountains looming up on one side and the clear blue sea on the other three sides it is the most isolated place on the island. Descending down from the mountains towards the village you have a stunning view over the whole peninsula and the old Venetian castle from 1570 that is guarding it!  It is a lovely place💙
After the 1953 earthquake the village was totally destroyed but with the aid from the French that came here and helped the people rebuild their houses, the village could regain it's traditional Ionian architecture. The village square is dedicated to the French and is known as Paris Square!
After Assos we continued to Fiskardo (or Fiscardo) at the northernmost tip of the island and just a short distance from Ithaka. Fiskardo is the only part of Kefalonia that was not destroyed in the 1953 earthquake, so it retains much of its original and very beautiful Venetian architecture with houses in bright and pretty pastel colors. This once small and unknown fishing harbor is now a very popular destination for the charter fleets so if you want to have a quiet lunch with a view over the sea, and not into somebody's cockpit, this is probably not the place for you. At least not in high season. I think the best time for a visit here is in early spring or late autumn.
After a nice lunch we made ourselves ready for the next stop-The cavelake in Melissani also known as the Cave of the Nymphs- This is a beautiful underground lake with crystal clear water, between 10-39 m deep and partly open to the sky by a shaft 25 meters above. This secret lake was discovered in 1951 after a cave collapsed, revealing the lagoon below.
A cheerful and singing! man that also turned out to be a very fast shooting photographer, he probably took ten pictures in about 5 sec😂, was rowing us around the two chambers of the cave. It's not a very big cave so it takes no more than approx. 10 min to row around it all, but it's a very impressive place well worth a visit, and we even saw a big eel slowly passing by in the clear brackish water!
Medicane Ianos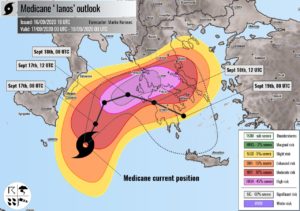 It was now the 16th September and for a few days we had been aware of a Medicane (a Mediterranean hurricane) named Ianos that was moving in our direction.
The predictions were that it would be passing us by to the south of the neighboring island Zakynthos, but since you can never be sure with hurricanes we decided that, together with Andrew and Angela, we would go to an abandoned marina opposite of Argostoli town were we would be sheltered in a good way.  Argostoli is actually situated in a bay within a bay and sheltered from the wind on three sides, so we deemed it to be the best place to be on Kefalonia, and the neighboring islands, in case Ianos decided to come closer. We could have sailed further north towards Lefkada but there are not so many good hidingplaces along the way and you don't want to be hit by a hurricane out at sea.
There were not so many places left when we arrived at the Marina. More people had obviously had the same idea as us. Some of the locals were trying to move boats around and even sending them away so that they could get to the best spots! Some people!😡 But since this is an unfinished and abandoned Marina you can not reserve a place! There are no people working here, it's just a few pontoons without any facilities. Rein and me really got angry, yelling at some people throwing the lines of a French ship in the water and trying to chase them away. By now we all knew that the Medicane had changed directions and was rapidly coming closer to us, which makes that kind of behavior even more despicable!
We are so grateful that we had our happy and lovely day out together with our friends because the very next day Ianos hit Kefalonia with full force and we actually ended up in the very eye of it. If you want to read more about our experience of the storm, I have written about this in the post below, but I will also mention something about it in this post.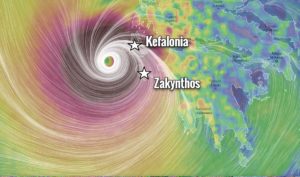 Link to In the eye of the Hurricane
The storm lasted for about three days with an enormous amount of rain and windspeed up to 105 knots (about 200 km/h or 54 m/s) This is a force you can not even begin to understand.
We were smashed on the concrete bridge and got some structural damage and then a boat in the marina came loose and headed directly toward us. If it had hit us at that moment Hoppetossa would probably have sunk. But it became stuck in something on the bottom and slowed down a lot so when it finally hit it was with considerably less force.
Our friends Andrew and Angela on their boat Millie were also hit. A motor yacht moored behind them barged into them several times and they have received quite a lot of damage, but luckily not below the waterline!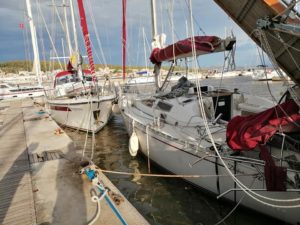 After a good nights sleep and some food we were feeling much better, although a bit emotional!
Wandering around in the harbor, seeing the devastation, the sunken and demolished ships and the fallen trees made us realize what we have actually been through! It will take us some time to process.
But their anchor couldn't hold them so they were on their way into the Marina when their engine just stopped!! Can you imagine the horror?!
They ended up crushed against the wave breaker, their lovely ship in pieces. They didn't want to leave her, a feeling I can totally relate to, but in the end  they had to and luckily they were not hurt!
With the exception for the time we spent in the eye, the storm lasted for about two days on Kefalonia before it went further east. And even though it was the worst 48 hours or so in our lives, we are so happy that we stayed on Hoppetossa because I am quite sure that we saved our ship!
Her damage was mostly superficial and we got some cuts and bruises ourselves, but it could have been so much worse!
The surveyor from the Insurance company, a very nice man named George, came and inspected Hoppetossa and  told us that we were free to go to Kalamata, but only in calm weather. So we will patch her (and ourselves) up a bit, wait for fair weather and then continue to Kalamata where we will take her up for more repairs.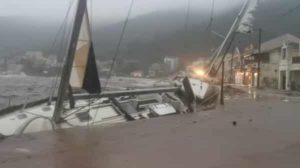 The rest of the island, Zakynthos, Ithaka and part of the mainland was also severely damaged. Assos, the beautiful village we visited just the day before Ianos hit are practically gone, buried under tons of rocks and mud crashing down on them from the mountains! Luckily nobody seems to have died or been seriously wounded. They were out of  water and electricity for three days and nobody could leave the village since all of their 25 cars were buried under the stones.
When Ianos hit mainland Greece with seven meters high waves, the wind had died down and it was mostly the amount of rain that was damaging, causing massive floodings. 8 000 people became homeless and 4 people were killed when the water entered their houses 😢
Update April 2021
Seven months have passed since this happened but I can still feel a lot of emotions coming back when I read and write about it. It's not that I am scared or want to quit our gipsy lifestyle but I think there is a new awareness of how swiftly things can change in your life.
Thinking back I can feel a detachment, almost like it all happened to some other people, and it may sound strange but I actually think that on some levels it was quite an interesting experience.
I have never, ever thought that I would find myself in the eye of a Hurricane but then I did! It was many, many times worse than I could have imagined and a very traumatic experience, there is no question about that.
I don't want to encounter anything like it again if I can help it, but we managed, we didn't panic and we were fighting like hell, working together without ever giving up! Together we saved our ship!
There were two times when I thought that we might have to leave Hoppetossa and maybe let her go under, and I don't think I need to explain what I felt then.
The first time I was standing on the pontoon and saw the other boat careening towards us, to be stopped just a few meters away by something on the bottom (or maybe our Guardian Angel).
The second time I was inside looking at the wall in the kitchen that was bulging inwards when the wind was pressing us very hard against the concrete pontoon. It looked like the whole side of the boat would split wide open, and I knew that then we would sink. But Rein was outside pressing some fenders in between, and there was "only" a crack in the hull.
So it all ended quite well!
In april 2021 she was repainted and she is now looking like a new ship!😀
Towards Kalamata…
It would take almost two weeks until we could trust the weather enough to leave Kefalonia. We needed a weather window of three to four days to get to Kalamata, and that amount of time is not so easy to find in the autumn. We would not sail, only go by engine in order to not strain the hull so much. While waiting we explored the town and together with Andrew and Angela we took the ferry over to Lixouri, Kefalonias second largest town after Argostoli.
We all liked it better than Argostoli. It is smaller and has a much more calm feeling to it. And the people from Lixouri are famous for being very polite, hospitable and professional singers! Who can resist that?😀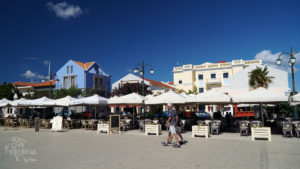 Lixouri, picture: Kefalonia by Anna
Loggerhead sea turtle in Argostoli harbor! They swim to the quayside every morning to get a free meal from the returning fishermen!
The 1:st of October our dear Millie's left! They were going north to Preveza, where they had decided to take the ship up for repair. We are so happy that they were here with us during the hurricane! We have treated each other to dinner and drinks and been trying to cheer each other up. Having someone to talk to about what we have all been through together has also been a help to process it. Hopefully we'll see them again next year!💚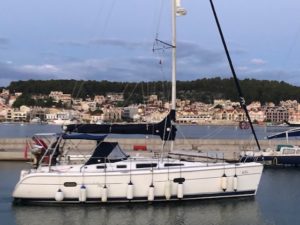 The 7th October we could finally leave Argostoli to continue towards our winter harbor in Kalamata.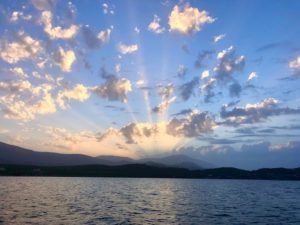 Good bye Kefalonia
Our first stop was Katakolo, a small town that happens to be the nearest port when you want to go to Ancient Olympia 34 km away.
It is also the second most visited port for cruise ships in Greece. Now, in the middle of the Corona crisis the enormous ships were for anchor outside with no passengers and the shops and tavernas were all closed!
We stayed at the quayside for one night and in the morning we continued to Kyparissia, 4-5 hours away depending on the wind.
The day before had brought some hard winds so now the waves were quite high. We didn't want to make it too hard for Hoppetossa so we made it a shorter trip than we had originally planned.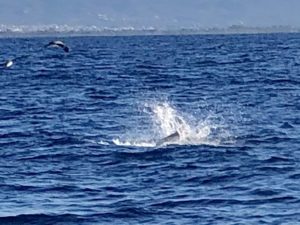 When we left we were met by the dolphins 
They always make us happy and we took it as a good sign!
Kyparissia (medieval name Arcadia) is a logical stop when you are sailing along the west coast of Peloponnese.
The town quay is free of charge but with some rocks and debris sticking up here and there so you will have to be careful when you moor.  You can also anchor inside of the wave breakers but there was a lot of space at the quay so we went alongside and took a stroll through the town.
It's sad that we didn't have more time to explore this lovely town, but hard winds were coming and we needed to get Hoppetossa to Kalamata before that.
We enjoyed a quiet evening and a beautiful sunset and the next morning we set off to Methoni at the tip of the westernmost finger of Peloponnese.
It's a beautiful place with the old Venetian citadel and fortress still standing guard against pirates from the sea!
This was the last time this season we would be for anchor and we enjoyed a swim in the clear water in the bay (25 C), and on top of that, another stunning sunset
The next day we arrived in Kalamata for our winter hibernation!
It felt good to be able to start our winter projects, we have a lot of them this time, and Hoppetossa really needs attention.
But at the same time it was also a bit sad to stop sailing! It has been a strange season, but in spite of Corona and Hurricane Ianos we have had a very nice time, visiting a lot of beautiful places and met some lovely people!
We love it here in Greece and in our minds we are already thinking about where to go next year!⛵
Kefalonia-A bit of history 
I always get distracted in a myriad directions when I'm writing these Blogs. There are so much history and so many interesting stories, at least in my opinion😏 that it takes me for ever to finish the main post! Below are some information about two events that I feel are essential in the modern history of Kefalonia.
The Massacre of the Acqui Division 1943 also known as the Cephalonia Massacre
In WWII Greece was occupied by the Axis Powers (Germany, Italy, Japan) On Kefalonia the soldiers were mostly Italian, the 33d Infantry Division Acqui with about 12 000 men. But in Sep 1943 an armistice was signed between Italy and the Allies (UK, USA, The Soviet Union) and that of course changed everything! Germany moved fast, attacking and disarming the Italian army in Italy and in the occupied countries all over Europe.
On Kefalonia the Italian troops were hoping to return home, but when the German reinforcements arrived and tried to disarm them they took a vote with three alternatives-
Join the Germans
Surrender and be repatriated
Resist the German forces
Eventually they decided to go with number 3 and resist as long as they could. The fighting ended in the siege of Argostoli where the Italians held out for a while but had to surrender when they ran out of ammunition.
A total of 1 315 Italians were killed in the battle, 5 155 were executed afterwards and about 3 000 were drowned when the German ships, taking the survivors to concentration camps, were sunk by the Allies. There are a lot of gruesome details about the massacre that I will not go into here. 37 of the 250 officers survived to tell the tale. How many of the soldiers that survived remains unclear. Suffice to say that this was one of the largest prisoner-of-war massacres and also one of many atrocities and war crimes committed by the German 1st Mountain Division (1 Gebirgs Division), an elite formation of the Wehrmacht. 
General Hubert Lantz, Commander of the Mountain Corps, was sentenced to 12 years in prison at the Nuremberg Trials. He is the only one so far that has been prosecuted for the Cephalonia massacre. He was released in 1951 and died 1982. A strange circumstance that explains why Lantz got such a light sentence was that the court at Nuremberg was deceived by false evidence and could not state with any assurance that the massacre really took place. In spite of a lot of evidence and even lists of names of the victims, only ten ex-members of the 1st Gebirgs Division have been investigated, out of the 300 still alive today, but it has not resulted in any new arrests and time is now running out…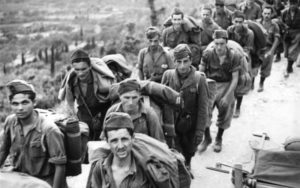 The book Captain Corelli's Mandolin by Louis de Bernières, which was later made into a movie (with Nicolas Cage and Penelope Cruz) is based on this event.
While the war ended in central Europe in 1945 the Greek Civil War continued and peace returned to Greece and  Kefalonia in 1949.
The 1953 earthquake 
The 1953 Ionian earthquake (also known as the Great Kefalonia earthquake) struck the southern Ionian Islands in Greece on August 12. The island that had survived the Italian and German bombing and occupation, was almost completely demolished.
The quake measured 6.8 on the moment magnitude scale and it actually raised the whole island by 60 cm!
Entire villages were flattened and survivors who made their way to the capital city of Argostoli hoping to find shelter and help were shocked to see that the entire city was literally gone. Only the village of Fiskardo in the north was untouched by the quake.
In the aftermath something more devastating than even the earthquake happened! Over 100,000 Kefalonians left for the United States, Canada, Australia and other remote places.
Also on the nearby island of Zakynthos the damage was substantial and about 800 people were killed.
In Zanthe, capital on Zakynthos, only two buildings were left standing!
Earthquakes regularly affect the islands of Zakynthos and Kefalonia, and for that matter, the whole of Greece!
There were several earthquakes on Zakynthos in 2003, 2005 and 2006.
There were also several large earthquakes in 2014, measuring 6.1 and 6.0 on the Richter scale. The epicenters of both were in Kefalonia at very shallow depths causing much damage on the island.
In October 25:th 2018 there was a 6.8 magnitude earthquake off the coast, that damaged parts of the Zante port, followed by more than 50 additional quakes over the 4:th magnitude in the Ionian Sea.
Kefalonia lies just southeast of a major active fault zone where the Eurasian plate meets the Aegean plate and that means that the earthquakes will continue. Apart from several major quakes during the last twenty years the island has also suffered from two big forest fires and in 2006 a snowstorm! was causing a total blackout on the island for several days. And now Ianos the Medicane! You could almost believe that the island is hexed😳