Since Montenegro is not yet a member in the EU (they are applying) it is a bit of a procedure to check into the country. There are a few places along the coast that handle this and when you are coming from the south it's the city of Bar you should go to. And so we did!
We arrived at about 7 in the evening and thought that we would have a place in the Marina well before dark. Well, that was not to be….
We moored at the customs quay and as usual the captain is the only one allowed to go ashore to see the harbour master and port police. It's always a LOT of papers to check and sign and it invariably takes a long time. Apart from the usual paperwork we needed to buy a "vignette" (a permit) to be able to sail around in the country, something that has to be payed in the post office. This was of course closed when we arrived, so we would have to fix that the next morning.
Very well. because we couldn't complete the check in and get our permit Rein asked if we could perhaps stay on the customs quay overnight, but the answer was that it was not allowed, we had to go to the Marina. He then asked if we could first talk to the Marineros and find a place for the boat before we went there, and that was alright, so he fetched me at the boat and together we went in search for the Marina and the Marineros.
We looked for a long while, even asking people in a restaurant nearby, but we couldn't find them, there was nobody in sight and the office was closed. So back to the Port Police to ask for help and had a very angry police woman jumping up from her seat and yelling at us "What's your problem? They are always there!"😏Nice!  After a while we managed to get another, not so angry policeman, to come with us and he located a Marinero that told us where we could go with Hoppetossa.
So, three hours after our arrival we were finally mooring on a pontoon in almost total darkness, which is not an easy task! Then the Marinero asked why we were sent to the Marina without having a vignette?? because that was not allowed, we should have stayed at the customs quay! Duh!! 🤔
He also wanted our boat papers in original because as he said, a Russian boat had recently left without paying, but Rein refused and gave him copies instead. Never let your boat papers out of your sight! The next day we went to the postoffice to pay the vignette, then to the Harbour Master to show the receipt and then- with some very necessary instructions on how to walk- to the Police to get a stamp on it. Puh! We were in!!
In hindsight we probably should have taken an agent, as we did in Albania, but we thought it would be more easy here. ha, ha!
We have heard other bad stories (especially about Budva) but to be fair there are also good ones. Our friends, David and Sarah, that came to Bar a few days after us were allowed to stay on the customs quay overnight and had a very different check-in experience. So it probably depends on who you meet😏
It's a pity though because the first impression IS important and for us it was not a good start. But from now on it can only get better and the city is beautiful!
The name Bar is a shortened form of Antivari, which is derived from the town's location straight  across the Adriatic Sea from Bari in Italy. It's completely new, constructed around the Marina with a long boulevard along the waterfront and with magnificent mountains looming up behind it.
There is an Old Bar 4 km uphill that is now a large archeological site.
In the vicinity you can visit the oldest olive tree in the world, it's said to be more than 2 240 years old!! Imagine what has passed by this magnificent tree during the ages!
Legend has it that family's that were fighting against each other would always find peace when they met under this holy tree.❤
Yesterday we walked along the boulevard to a very nice bar at the seaside. Families with children, grandparents, youngsters…all together!
And with a hardworking, sweet waitress that reminded me of my beautiful daughter Linn!
But now we were looking forward to go for anchor again and the next day we left for the Bay of Kotor…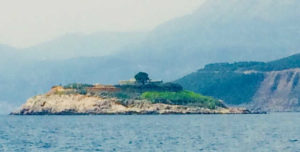 The Bay of Kotor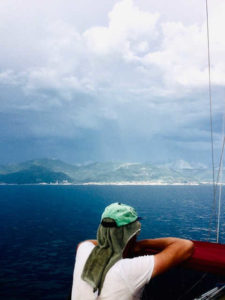 Now we have entered the Bay of Kotor, Boka Kotorska or just Boka (The Bay) as it is called here.
It's really 4 small bays or rias united by narrow channels, and together they are about 28 km long with a shoreline of 107 km! Due to its unusual look, the Boka is often called Europe's southernmost fjord, but in fact it's a submerged river canyon.
Six wellpreserved medieval towns are situated around the bays-Kotor, Risan, Tivat, Perast, Prjcan and Herceg Novi, there are also about 100 Catholic and 200 Orthodox Churches, chapels and monasteries so we have a lot to explore….
Montenegro (Crna Gora) means Black Mountain and when you see the dark Dinaric Alps looming up around you that name is perfectly understandable!
It's breathtakingly beautiful here with a unique flora and fauna! There should even be dolphins here🐬
We found a very nice place to anchor, close to a small island opposite the town of Tivat.
And when the almost full moon was rising the nightingales started to sing!
We could also hear the sweet scops owl (only 19-21 cm long) and bats 🦇 Magical.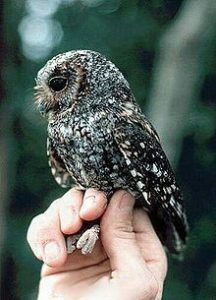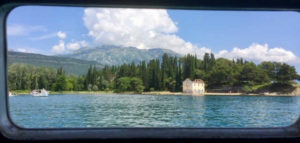 A room with a view, Tivat Bay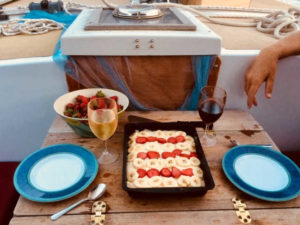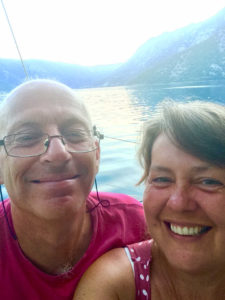 🌼🌺
Happy Midsummer!
Risan
We have been for anchor outside the town of Risan in the innermost part of the Boka for a few days. Risan is the oldest settlement in the bay and the historical capital of the Illyrian Queen Teuta in the 3rd century BC. Illyria was a region in the western part of the Balkan peninsula.
This is a small and pretty town with about 2 000 inhabitants, protected from land by the (almost) inaccessible Orjen mountain, the highest range of the eastern Adriatic.
And from the open sea it is protected through several narrow straits in the Kotor Bay. It must have been really hard to reach this place in the medieval time!
Risan is famous for it's Roman mosaics that were found in the remains of a Roman villa from the 2nd century. The villa and it's exquisitely detailed mosaic floors were uncovered in 1930 and the reason these mosaics are considered to be so special is mainly because of the one found on the bedroom floor! The beautiful artwork is a tribute to Hypnos, or Somnus as he was called in Roman mythology, the Greek God of dreams. This is the only mosaic rendition of Hypnos ever found.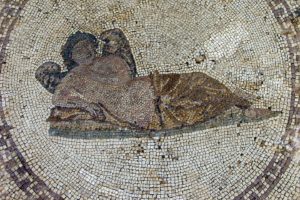 Outside of Perast
If you look at the Bay from above it has the look  of an angel.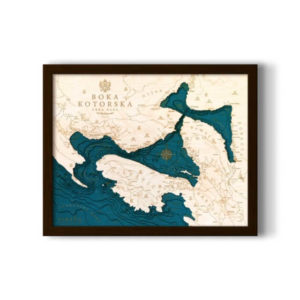 We took our dinghy, Lilla Gubben, to visit the two small islets Ostrvo Sveti Dorde (Island of S:t George) and Gospa od Skrpjela (Our Lady of the Rocks) situated between the "angels wings" in the inner bay of Perast.
On Sveti Dorde there's a monastery from the 12th century and a graveyard, but sadly it's closed for visitors. If you go on shore you can only see the outside walls.
Gospa od Skrpjela (Our Lady of the Rocks) is an artificial island, created by sunken old ships loaded with stones around a rock in the bay. According to legend it all started the year 1452 when two brothers found this rock and discovered an icon of the Madonna and the Child on it. They vowed to build a church for it, but they had no land to build on so first of all they had to build the island. So upon returning from each successful voyage, they laid a rock in the Bay.
It took a long, long time but in the year 1630 the beautiful church was finally standing there, and now there's also a small museum with a lot of art on the islet.
The island has to be maintained so through the centuries the sailors have continued to bring stones and rocks (and sunken ships) This event is called Fašinada and it is held every year the 22 of July.
The town of Kotor
Hard winds were coming, with 35-40 knots in the gusts, so we decided to go to the Luka Marina in Kotor for a few days. It's situated at the very end of one of the bays, (at the tip of the right angel wing) safely tucked in against the overhanging limestone cliffs.
It's a lovely city with one of the best preserved medieval old towns in the Adriatic. The ancient walls, actually more than a thousand years old, stretch for 4,5 km directly above the city and if it hadn't been so hot (35-37 C) we would have climbed to the top.
But there is a lot to explore in the winding streets and alleys down below too.
Kotor was part of the Venetian Albania Province for four centuries (1420-1797) and the typical beautiful Venetian architecture contributes to make Kotor a UNESCO World Heritage. It's current name stems from the word Dekatera (from the old Greek words "Deka + Thira" meaning "Ten" + "Gate", probably from the number of gates of the fortification.
It's a lot of tourists here of course, many of them coming by BIG cruise ships. It's difficult to understand how they can squeeze these ships in!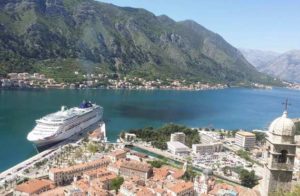 And unfortunately there was a monster yacht in the Marina playing very loud music one night, so it's not a quiet and peaceful place. But we really like the town and if we want peace and quiet we can always go back to "our" nightingale islands in the outer bay.
A curiosity with Kotor is it's large population of stray cats 🐈 It's hundreds of them everywhere!
Nobody knows exactly how it started but probably most of them have arrived together with ships from all over the world and then decided to stay!
Now they have become a symbol of the city and there are a lot of cat stores selling souvenirs and all kinds of things with cats on them!

Food and water are put out for them by shop owners and restaurants and most of them seems to be in good shape, although we have seen some very skinny and scruffy looking ones!
The official symbol of Montenegro is the Venetian lion, but since the cat is like a little lion it is now the unofficial symbol of Kotor!😻
One evening we had dinner at a small restaurant, under the protective branches of a five hundred year old Black Poplar Tree opposite the Cat museum (1 Euro to enter). And of course we had to share our dinner with a green eyed black beauty. If you're a cat lover, then you must visit this furry place 💖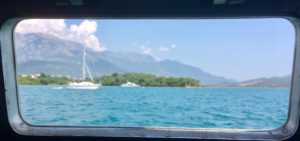 After some days and nights in the town of Kotor we decided to go for anchor again outside of what we call Nightingale Island in the Bay of Tivat, but it's really three Islands that together are called the "Holy archipelago". Our friends Sarah and David have joined us in the bay and together with them we went to explore two of them.
First Sveti Marko, or Stradioti as it was formerly called.
In 1962 a kind of adventure resort was built here, were you could live in the forest in small huts (there should be about 500 of them) without water and electricity, but after the Balkan wars the island was abandoned and it is now almost completely covered with trees of all kinds. There is also rumors that a famous Yugoslav nudist has been (or is?) living here!🙄
Nudists or not, we only managed to get a few meters into the dense forest before we were stopped by a wall of brambles and thorns and had to give up or get our legs completely shredded to pieces! 
So instead we went to Gospa od Milorsrda (Island of the Merciful Virgin)
or Otok island as it's also called, maybe because it's more easy to pronounce!?
It is very small, only 80 x 147 m, with a monastery from the 15th century occupying most of the space.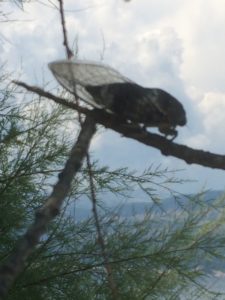 We were alone on the island except for three sunbathing women and two very nice and friendly dogs, and the monastery was closed!
But it was nice to stroll around with the dogs among the trees, and just before we left one of the friendly women gave us all a sample of sea urchin! You eat them raw, scraping the meat with a small spoon directly from their spiky shells.🙄 Hard to explain what it tasted like-salty but a bit sweet at the same time! Not so bad and nice to have tried but I don't think I will eat again even though it is considered to be a delicacy!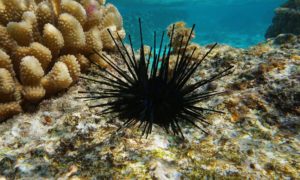 We  also visited the island closest to us in the bay-Mijholska Prevlaka, called Island of Flowers.
A very fitting name since there are lovely and sweetsmelling flowers absolutely everywhere🌸
During the Yugoslav Socialist period this was a resort for Military personnel and closed for the general public.
The former reception area and the blocklike concrete houses they left are now slowly being taken back by nature!
There's also a monastery that's housing three monks, and an old Orthodox Church that attracts a lot of pilgrims.
The ruins of a very old monastery from the 5th century are still visible and it's said that all the monks here were murdered by poison by an evil landowner that wanted the whole island for himself!!
It's very nice and peaceful to be anchored outside this beautiful, flowery island but we are quite often woken up in the nighttime by the ringing of bells and singing voices! Maybe the poisoned monks??!🙄
Gorgeous pictures taken by our friend Sarah!
Porto Montenegro-Tivat
We are leaving the Boka and sailing for Corfu in Greece where we will pick up Linn and Alicia the 15th July 😍 🤗 But in order to do that we have to check out of Montenegro, and Porto Montenegro in Tivat is one of the towns where you can do it.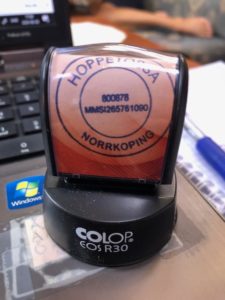 To make the check out-procedure a bit more easy you can buy a stamp with your boatname, homeport and MMSI-number on it! There are about 15 documents to sign before they let you go and it would take for ever to do it by hand. Fortunately, in Tivat they help you with these procedures so it was much more easy than the check-in.
There is one more benefit when you check out. You have the opportunity to buy diesel tax-and duty-free, but then you must clear out of Montenegro territorial waters by the shortest way possible. Duty-free fuel cannot be consumed in the country.
Tivat is the youngest town in the Boka area with it's own international airport close by. The regular flights go to several European cities, such as Moscow, Belgrade, Paris, London and Kiev.
Porto Montenegro was an army shipyard in Tivat that had gone into disrepair after the Balkan war. But 2014 a Canadian gold magnate, Peter Munk, bought it and turned it into a Luxury Marina complete with apartments and shops full of expensive brands. Now Porto Montenegro is the only Platinum-rated marina in the world and is the homeport to some of the world's biggest luxury yachts. We saw one of them-with a golden head of a rhinoceros as a figurehead in the front😅
We spent one night in the luxurious Marina and the next day we went to the fuel dock where they filled us up with diesel and in the most friendly way helped us with the check-out paperwork.
We have really loved it here, specially the old cities and the nature in Kotor Bay! And the peaceful anchorage we found where we were almost alone! Wonderful❤
Now we are setting the course for Corfu.
It will take us 35-40 hours with the wind in our back and I think we'll soon have a beautiful sunset!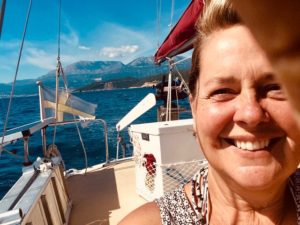 Fun fact
Montenegro hasn't had a royal family since 1918. But His Imperial and Royal Highness Stefan Cernetic, Hereditary Prince of Montenegro, Serbia and Albania has been attending gala dinners, giving out Orders (for a fee) and been friendly with celebrities and aristocrats for years. 2015, in a ceremony where she knelt in front of him, he gave Pamela Andersen the title Countess of Giglio!😂
This very successful fraud started to crumble when the "prince" had a hotel bill sent to the Macedonian embassy in Rome, which the embassy dutifully declined, saying it didn't have a prince, much less were they sharing one with Montenegro! This Italian gentleman is now charged by Interpol with fraud and forgery. But I wonder what will happen to the Countess of Giglio?😅