We have stayed in Nynäshamn for a few days so that we could say goodbye to our loved ones, and it has been nice, fun and very emotional ♥♥
Now it is time for us to move on and we decided to go directly from Nynäshamn to Kalmar without stopping on the way which meant the first nightsailing in a long time. We had enough wind to be able to sail for some hours, but eventually it died down and with a lot of waves that made us roll around in a bad way (urk) it was better to go by engine.
It was cold enough for us to be happy to have our winterjackets (the one's I almost left behind thinking it was summer!!)
Still it is sooo nice to be on our way 🙂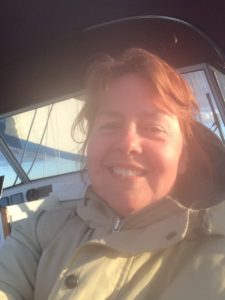 And Hoppetossa is behaving exemplary. Good ship!!
I took the first nigtwatch and could admire the marvellous sunset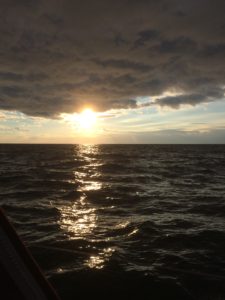 Had almost forgotten how beautiful it can be out there….
There were not so many ships  and both the wind and the waves became much softer towards morning, so we enjoyed a quiet and uneventful night and arrived in Kalmar around noon the next day.
The distance is approx 140 NM which took us 26 hours (just a little bit tired)
Here we were met by our dear friends Judy and Jonathan that had been so kind and reserved a place for us in the harbour close to them 🙂 ♥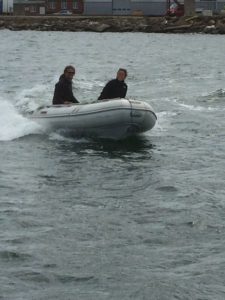 Here we'll stay a couple of days to make some necessary repairs before we continue our journey south….