Almerimar

Costa Almeria

On our way to our friends in Altea we first stopped in the village of Almerimar, also known as Ensenada San Miguel.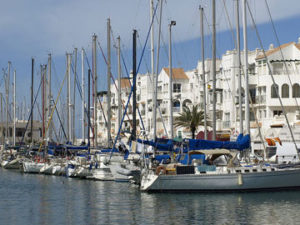 This small coastal town is purposely built as a holiday resort and it is perfect for that! With a temperature that rarely falls below 18C, nice beaches, golf courses, restaurants and bars…..There's also a big marina with many live-aboards and the pricetag here is a lot lower than in the nearby towns. The harbour master was very friendly when we arrived and so talkative that it took us almost 1,5 hour to finish the usual boat administration this time 😏😄
The resort is located like an oasis in the middle of a dry and rugged landscape. Much of Spain's fruit and vegetables are growing here under big white plastic sheets, so it's not so beautiful, but if you plan to stay for a while there's a lot of things to do and see in the neighbourhood.
Apart from the looong beaches (about 13 km) there's a nature park, Punta Entina-Sabinar, not far away. It is the home to more than 150 different species of birds living in the beautiful dunes- and wetland landscape, among them flamingoes, herons and cormorants. Some hedgehogs, rabbits and dormouse's can pop up but mostly there's a lot of reptiles, spiders and amphibians 🐰🐍🦎😉
A nice surprise😊– about 45 min drive away you find the spanish desert of Tabernas where the sun shines for over 3,000 hours a year and it hardly ever rains! The temperatures range from -5 to 48 °C!
Because of it's similarity in looks to the American Wild West badlands a lot of movies movies like -Once upon a time in the west, Lawrence of Arabia ,The last crusade(Indiana Jones), Lucky Luke and many, many more where filmed here in a kind of Mini-Hollywood setup! And of course Clint Eastwood was here😊
Torrevieja

-Costa Blanca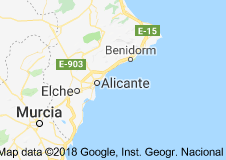 Torrevieja is situated about 50 kilometers south of the city of Alicante on the part of the coast that is called Costa Blanca (White Coast) which is an incredibly popular tourist destination. The cities of Alicante, Benidorm and Altea are well known destinations along this coast.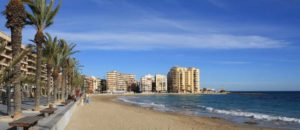 Until 1802 Torrevieja existed as a guard tower, and Torre Vieja in Spanish means Old Tower. That year the salt production was moved from a nearby town and people started to move in. In 1991 there were 25 000 residents and two decades later they were close to 100 000! By 2004 Torrevieja had the largest number of British residents of all Spanish municipalities, they were approximately 7 180 or 12%. So sometimes the city is jokingly called Costa del Yorkshire😉 But other nationalities have also found their way here and the Spanish population are now about 47% of the inhabitants!
As with the other cities, villages and towns along this coast it's the climate and the beaches that makes Torrevieja popular, but it also has something extra; two large and beautiful salt lakes, one green and one pink💗💚  and because of them the city is said to have a very healthy microclimate. It is one of the few places in the world that has a salty pink lake and it is a bacteria (Halobacterium) and a microalgae that are working together to give the water that particular pink shade. There is also the marvelous green lake, but people seem to prefer to splash around in the pink one😊
And now we're on our way to Altea.…..😊
The name Altea derives from the Moors who conquered the region and named it Althaya, meaning "health to all". The city has a new and an old neighborhood. The new one along the beach and the old part, perched on the top of a hill with a magnificent view. It's very pretty, charming and typically Spanish with its narrow cobbled streets and beautiful whitewashed houses and a lot of artists and photographers are residing here💙
Our friends are living in L'Albir close to Altea and we spent two fun and lovely days together with them🥘🥂💕😍
We even saw some dolphins🐬🐬💙😊….
Lillan brought us a bag full of goodies-Olive oil from Albir and a lot of nice Swedish treats like Kexchoklad, Bilar, Ostbågar, and Kalles Kaviar!!!! Yippee!!!😃😊 I think you have to grow up with Kalles to love it, Rein says BLÄÄÄ!🤣
Thank you wonderful Findhe family💗 we will come back and pick you up when we travel west again…
We are now leaving the Spanish mainland and setting our course over the sea towards the Balearics………⛵.🏝