Costa del Sol means"Coast of the Sun" or "Sun Coast", it is a region in Andalucia along the coastline of the province of Malaga. It is a world-renowned tourist destination with warm weather the year around and an average of about 3000 hours of sunshine annually!🌞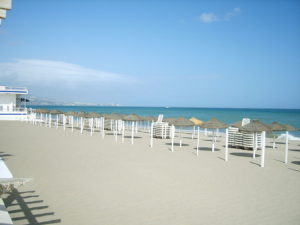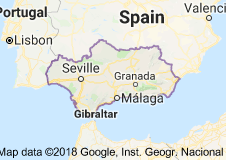 The beginning of the tourist industry in this area goes as far back as 1897. After a severe economic crisis at the end of the 19th century that led to a weakened trade- iron- and textile industry combined with the Phylloxera epidemic( a kind of pest that kills the grapes) some of the residents started to think about other means of livelihood. So at the beginning of the 20th century, the Baños del Carmen beach was developed and opened in the east of Malaga and the Torremolinos golf course followed in 1928.
Then the Spanish Civil War and the World War II came in between for a while…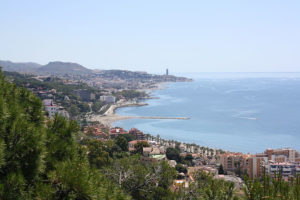 After World War II, Marbella was a small village with only 900 inhabitants. Then a Spanish marquis and a German prince bought some property and invited their rich and famous friends, and around 1950 Marbella and Torremolinos was transformed to a destination for the international jetset such as Grace Kelly, Brigitte Bardot, Frank Sinatra and Orson Welles.
And so it has continued….
The 1960s brought a radical change in the appearance of the small fishing villages along the coast. Some of them have preserved their historic centers, but most were altered by often haphazard commercial and residential developments. The same fate befell long stretches of scenic coastline as mass tourism exploded, and today Costa del Sol welcomes millions of tourists annually.
Our first stop after Gibraltar was La Duquesa (The Duchess), a small town between Gibraltar and Marbella. It is a bit away from the more popular and bigger holiday resorts so it was relatively quiet when we arrived. The Marina is quite nice surrounded by restaurants, bars and shops with all kind of facilities. If you like to play golf you might have heard of this place since it obviously has a wellknown golf course, but otherwise the town is quite unknown and bypassed by most tourists.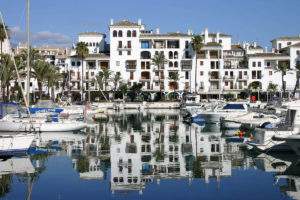 Fuengirola
We had ordered a new bank card for Rein before we left Sweden, but the mailservice has not been functioning properly since new owners took over the government owned Postnord a couple of years ago. The mail just disappear to an unknown place (there are rumors about somewhere in Småland😉) For Rein it means that he has not received any mail at all since he started to live in Sweden! However, our bank had been wonderfully helpful and sent a new card to their office in Marbella, so we had a date!  But when we arrived at the Marina in Marbella they didn't have a place for us, or so they said!
We saw empty places but they were for bigger ships. That meant that we had to continue to the nearest port-Fuengirola…
It's very strange to send away a ship out to sea again when you have places left, and we suspect that they wanted bigger yachts as customers! Anyway I think Fuengirola suited us better, it was not so fancy 😉and Vibeke, one of the wonderful employees at Handelsbanken in Marbella came to Fuengirola to deliver Reins new bankcard in his hand, fantastic! Thank you so much Moa, Jessica and Vibeke!! You are the best!!🌸😘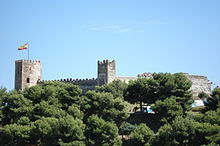 This is a major tourist resort, with more than 8 km of beaches and a beautiful medieval Moorish fortress, the Suhail Castle, where they have festivals and concerts. There is also a zoo, known as Bioparc Fuengirola, which feature "tropical-forest" dwellings. The zoo specializes in breeding for endangered species, chimpanzee-group research and tropical-forest education.
It has a series of natural habitats for different species and is quite renowned for being a very humane zoo.🐘🐅🐆🐊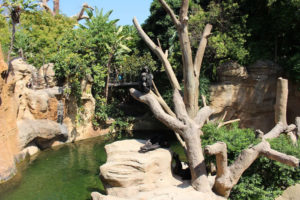 For hundreds of years the inhabitants in Fuengirola were mainly engaged in fishing, agriculture and trading with ships that dropped anchor in the bay but that changed in the 1960s when the tourists started to come! Of the approximately 72 000 permanent inhabitants registered in the municipality, 25% come from other countries. They are mainly from England, Ireland, Scotland, Finland and Sweden but also from Morocco and Argentina. The English-speaking community in particular is large enough to support a fully developed program of activities and local groups and this is also a center for the Danish, Swedish, Finnish and Norwegian population along the coast.
Marina del Este-Punta de la Mona Marina
This is a hidden gem in Andalucia. This very pretty and little-known marina, some say it's one of the most attractive marinas in Andalucia (and the whole of Mediterranean!😉) is located in the small seaside town of La Herradura. The marina has been developed around a large rock known as Peñón de las Caballas (Mackerel Rock) that you can walk around and climb! It is a little bit hidden and quiet here and that makes it very nice in our opinion. However, this marina is a luxury complex and the prices reflect that.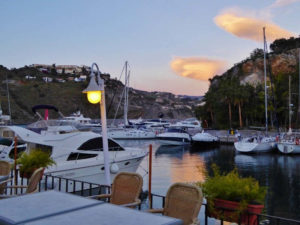 We climbed to the top of the mountain to get a look att the view, and it's really breathtakingly beautiful here! New apartment buildings are coming up everywhere and it's said that they will be among the most expensive in Spain.
As you might have understood, Costa del Sol as well as the Algarve Coast in Portugal is not really what we prefer although there are exceptions here and there. It's a bit hard to see the real Spain for all the tourists and everything we have brought with us. And since we are not much for hanging on the beach or dancing the night away in a club we will continue on our way….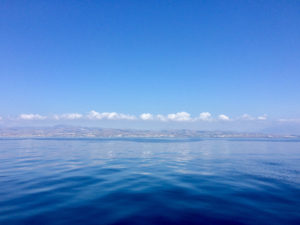 Next destination -Costa Blanca were we visited a dear, old friend of mine in the little town Albir