May 2016,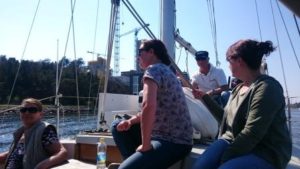 We have decided to go to Norrköping with the boat for big maintenance. It is ½ hour from our cottage and all the important shops are close by. We first had the idea to go to Norsholm with the boat. It would have been more close to our cottage but much further from the shops and we were depending on the opening times of the 'Götakanal', which opens in May or June.
We couldn't have picked a better weekend for our trip from Wasahamnen in Stockholm to Östersjövarvet in Norrköping.
Sunshine, nice temperature but not so much wind, so the whole trip on the engine. Together with our friends, Janne and Taina (who always take good care of Wasahamnen) and Katarina we sailed through the beautiful archipelago of Stockholm into Bråviken.
At the wharf the boat was lifted and I noticed 2 remarkable things. The hull was very clean. Considering Hoppetossa has stayed in the water for three years it was a little miracle. The coppercoat is really amazing stuff.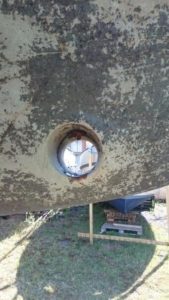 The other thing was not so nice. When I was in Stockholm I tested the bogpropeller and noticed it didn't work (the engine worked but there was no propulsion). I thought the propeller was gone and bought already a replacement. But when she came out I saw the whole tail was gone, leaving only an empty tube. The most scary about that was that there was a possibility of sinking the boat but there was still a bit of the ax left to prevent that.