Guernsey is truly beautiful ♥ but we wanted to continue! Our plan was to go to a harbor close to Brest, a trip for about 20-24 hours, and wait for a weather window to go cross the Biscay Bay. You'll need 5 days of fair winds to do that, or so the say.
When we left there was some wind and our destination felt reachable though the forecast varied a bit as usual. The British meteooffice warned for about 6 Beaufort (11-13 m/s) but other sources said it would be less. Together with our nice neighbors from Guernsey, a family of four on the ship "Bojangles", we sailed towards Channel du Four. And we saw our first dolphins!:-)
In the afternoon the wind picked up and it became quite uncomfortable with high waves from the side (much higher than the predictions) that would probably continue the whole night, so instead of continuing for 24 hours under these conditions we decided to go to Treguier in Brittany, a small town up the river with the same name. It was our first time to enter a river between pointing rocks! Scary! You also have to be very careful how you navigate because a big part of the river becomes dry at low tide.
But it's worth it, the scenery along the riverbanks is as pretty as a picture! A very friendly and helpful young woman was waiting for our arrival because it can be very tricky to moor when the current is against you. The town of Treguier itself is very nice, founded in the sixth century around a monastery so there's a lot of historical sites to look at and you can take long hikes up the beautiful meandering river.
That night we had a restful, so called "farmers night"(Dutch saying 🙂 instead of a bumpy night at sea. It's good to have a plan B!
The next day we set sail down the river and along the coast of Bretagne to Roscoff, or Rosko in Breton. Breton is a Celtic language that has fallen out of general use since the mid-20th century, the UNESCO has classified it as endangered and the French government  started a campaign in 2008 "Oui au breton" (Yes to Breton)in an attempt to stimulate the use of Breton in daily life. Now about 14-18% of the children in Brittany are attending bilingual school and most of the street names are written in both languages.
The arrival in Roscoff was not so easy, there's always a lot of current in the harbor and the harbormaster was not helping at all. The town of Roscoff is beautiful though and we stayed an extra day to enjoy the surroundings.
The town is famous for it's special architecture, the houses are decorated with stones in many different shades and sizes and have won prices as the "petite cité de caractère de Bretagne" (small town of character). It's very nice!
Its also famous for a sweet, tasty, pink variety of onions "Johnnies" that were sold by Breton farmers, called Onion Johnnies, going on bicycles from door to door in Great Britain(between 1820-1950) In those days it was more easy to cross the Channel than to travel on the bad roads to Paris to sell their goods! Nowadays the onions have their own festival for two days every summer.
The weather is not so summerlike right now, with hard winds along the coast of Bretagne. Sometimes the current also goes against the wind and creates really strange waves. It looks like the water is cooking. It is this has prevented us from going directly from Guernsey to Brest.
But I must say that it's very nice with this harbor-hopping! It gives us a chance to see so many wonderful places that we would have missed otherwise♥
So next we decided to go to L'Aber Wrac'h, a small village up the river W'rach in the department of Finistere in Bretagne. L'Aber Wrac'h is situated at the crossroads between the English Channel and the Atlantic so now we're out on the Atlantic Ocean!Wow! We had a really spectacular sunset our first evening in the harbor!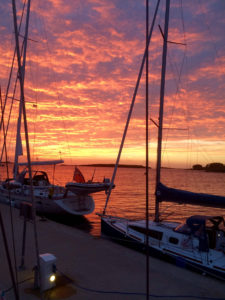 Here you can walk on special footpaths for miles and miles, and the names and sceneries are fantastic, or what do you think about Baie des Anges(the bay of Angels) or Point du Diable(the Devils bridge) 🙂
The name L'aber W'rach is said to have come from a rock in the channel ,"Ar Gwrach" which means "the old woman". Here they also collect Bretagnes "black gold" kelp.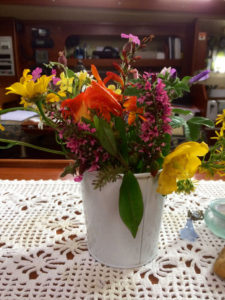 And now we're on our way to Camaret-sur-Mer…