We had to pass "Chenal Du Four", a piece of water which can be a bit tricky because of the current and the razorlike cliffs! So the time to leave L'Aber Wrac'h was decided by the tide. The passage went well and soon we were in Camaret-sur-Mer (Kameled in Breton) It's lovely little town about 80 km south of the big city of Brest. Overlooking the harbor is the Vauban Tower, 18 meters tall and built 1696 it helped to defend the town against the English and this glorious victory 🙂 gained Camaret the title "Guardian of the Armoric Coast".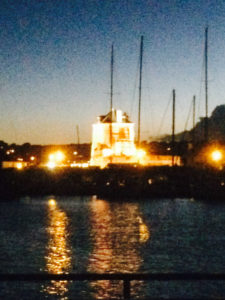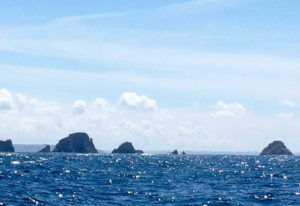 It's an old fishing village that were once one of the largest ports in France for langouste and you can still get lobster, langouste and various species of crab as fresh as they can be, directly at the quayside. Nowadays the town has developed  to a center for artists and writers and many Breton and Parisian artists own small galleries here.  From here you can go by ferry to the island Ouessant, one of the wildest of the Atlantic islands.                       And I almost forgot to mention the 60 beaches in and around Camaret!
The next day we needed to fill up the dieseltanks for our trip to Belle Ile, about 15 km off the Atlantic coast of France. It will take us about 20 hours and hopefully we'll be able to sail but of course it's good to know that we can use the engine if we have to.
But we had to wait for a French yacht that said  that he needed "only 5 minutes". After about an hour Rein asked what kind of minutes they meant ,5 minutes or 5 French minutes, and they had to laugh! But for us the timing was extra important today because we had to pass the infamous stretch of water called "Raz de Seine". This is a dangerous zone for navigation due to the violent sea currents from the tides that can be up to six knots! The current causes the sea to rise quickly, and it is recommended that you only attempt to cross at still water and during calm conditions.
But we were just in time and everything went well. No monster waves and not too much current today 🙂 So we could start our nightshifts! And while Rein was sleeping I had two dolphins following the boat, hunting and playing for more than two hours!♥ It was truly magical and I hope we will see more of these lovely creatures!♥
The next day we arrived in the town Le Palais on Belle Ile.  You have to wait outside in the bay for high water so that the gate to the inner harbor can be opened and then you are right in the middle of Le Palais! It's a popular harbor so it's very, very crowded during high season and you also share the space with big working vessels that have to pass you by with about 5 cm to spare! Oj, Oj! The population on Belle Ile grow from about 4000-35000 in the summer!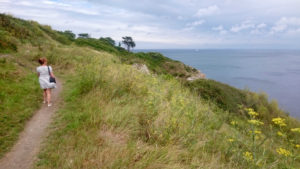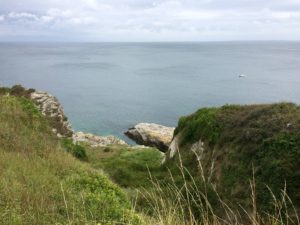 As you can see on the pictures it's a beautiful island and it has been an inspiration for Claude Monet, Henri Matisse and Van Gogh and the books of Alexandre Dumas.
Since the ninth century the island has belonged to a number of French families. Between 1761-63 it was temporarily held by British troops, who then returned it to France in exchange for the island of Minorca (now belonging to Spain) Strange things happen in war!
The houses in Le Palais are WOW, I call them "Happy Scrappy" ♥♥
Next we'll leave France and sail over the Biscaye Bay to Spain…