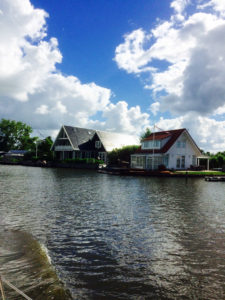 A few days after midsummer we left Dokkum to continue along the canals on "The standing mast route". You can go all the way through Holland and Belgium on the canals it and it's a good alternative if the weather outside, at the North Sea, is rough(as it usually is) or if the winds are coming from the wrong direction(as they often do)
It's good that you can leave your mast standing, but instead you have to wait for 22 bridges! to be opened for you and also some locks(not on my favourite place-list) but the canals are really beautiful and I think people here have a good place to live, so close to the water with their own little boats outside:-)
The boat on the picture is a typical Dutch "Platbodem" a Flatbottom. Perfect in the canals and the shallow waters surrounding the Netherlands. The canals are guaranteed to be 2,20 deep so ordinary sailingboats have to be a bit careful. Hoppetossas keel is only 1,80 but we bumped into something once(maybe a bike?) and we could feel her sliding through the mud now and then!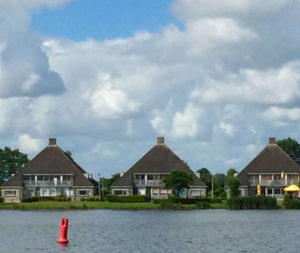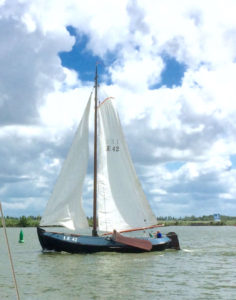 Something that's also very nice is that there's a lot of places along  the fields where you're allowed to moor and stay over night with one or two other boats and a lot of birds as your only company. It's almost like the "Allemansrätt" in Sweden.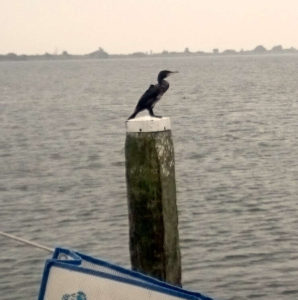 We sailed over the Ijsselmeer (a lake that was once part of the sea) and stayed a few days in Almere, an old working harbor with only a bridge and nothing else. But we have our own generator and big water tanks (1200 l) so we don't have to have access to electricity and other facilities all the time. It was a good place to say goodbye to some of our dear Dutch friends♥ We hope they'll visit us soon again!
The whole commune of Almere is built on the sea, in a so called polder, and has only been in existence for 35 years. The commune is actually  situated 2-5 meter under the sealevel! I'm so impressed and intrigued with how the Dutch have been fighting and taken land back from the sea since they started to live here. And in these days of climate changes I think their skills will be sorely needed in many other places. In Bangladesh for instance….
Next stop was Amsterdam, it's one of my favourite cities but this time we only stayed for one night. We wanted to say goodbye to our friends Eva and Dan so we had a nice dinner with them and their sweet little dog Ella in the city:-) Yes, dogs are allowed to go into most of the restaurants here.
Next day we went to Zaandam in Noord-Holland were there's a big Marine shop that offer you a place to stay with your boat overnight! Good service! Among other things we needed a few new seacharts of the coast we are going to travel next. We have most of the charts in digital form but it's always good to have them in paper.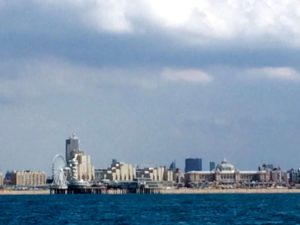 Next stop Scheveningen, one of the eight districts of The Hague. You think it's easy to say? Ha! Rein tells me that it was actually used under World War II to prove if you were a Dutchman or not. Nobody that's not Dutch can pronounce "Sch" properly. Believe me, I have tried;-)
But like most of the towns along the Dutch and Belgium coast it has a wonderful beach (or actually four) that seems to go on forever… Since 1818 Scheveningen has been a famous bathing resort.
The earliest reference to the name go back to around 1280 and the first inhabitants may have been Anglo-Saxons or even Scandinavians! My impression of the Netherlands is that there are more blondes here than in Sweden. Especially in Friesland.
Heavy storms have destroyed the city several times until the villagers finally got tired and decided to build a harbour.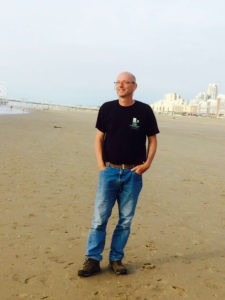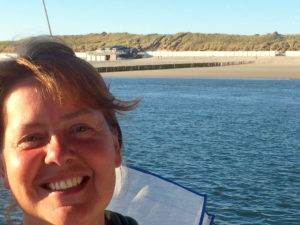 Last stop in the Netherlands was Vlissingen in the province of Zeeland with a very nice harbor in the middle of the town. It has been an important harbor for centuries and got it's city rights 1315 and the East India Company had one of it's main harbors here. The beaches here have won several awards for having high quality of bathing water and clean beaches.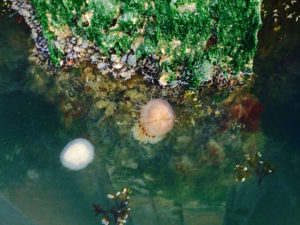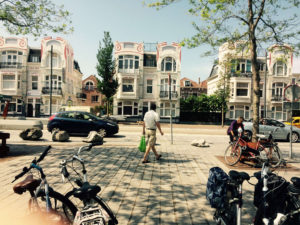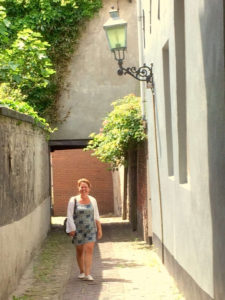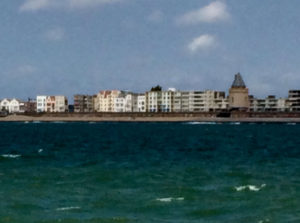 And now we say bye, bye Holland! and continue to Oostende in Westflandern in Belgium…
The first mention of the city is from around 1000 and it was the main city for the East-and Westindian Company in the 1700.
Although it's very close to Holland and they speak Dutch here it feels so different. It's not so neat and orderly, neither the houses nor the people, and everybody from the children to the elderly seems to be out on the streets and the beach together, enjoying the summer:-) It has a feeling of the Mediterranean. Nice!!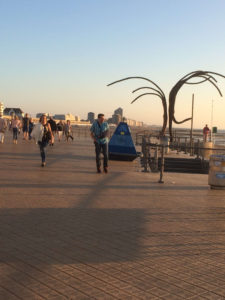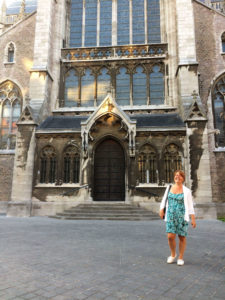 Tomorrow it will be fair winds and sunshine and we'll make a long trip, in to the English Channel and towards France….
Follow us also on our Facebookpage Hoppetossa sailing