For two days we have been staying in a wonderful fishing harbour named Hällevik. In Skåne I thought until I looked at a map and saw that it's actually situated in Blekinge.Very close to Skåne it is but I know that this is a very sensitive subject for the people in these regions so it must be corrected:-)
We had planned to go to Åhus today and after that toward the Kiel Channel and Germany…
But all the weather reports have talked about kuling and possible thunderstorms from this afternoon until approximately noon tomorrow so we decided to stay on another night. No need to be out in that kind of weather.
So today we have been out exploring the neighbourhood a bit and it's really beautiful here, with beech forests and lovely cottages with an oceanview
I think people have a good life in this place
After being showered with rain a number of times we thought it was time to get back to Hoppetossa and try the lokal delicassies instead; smoked makrill and smoked shrimps. Mycket mumsigt!
We also dug into some of the emergency rations that our thoughtful friends Janne and Taina gave us when we left Nynäshamn. Thank you♥
-Land i sikte Lager och Spinnaker Sessions IPA, very suitable and nice too!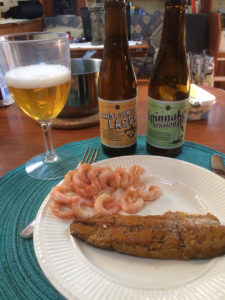 Tomorrow afternoon we plan to go as far as possible, maybe as far as the Kiel Channel. That means nightsailing again so now we are going to enjoy a quiet and calm evening
See you soon…